Physician Designed Zone Therapy®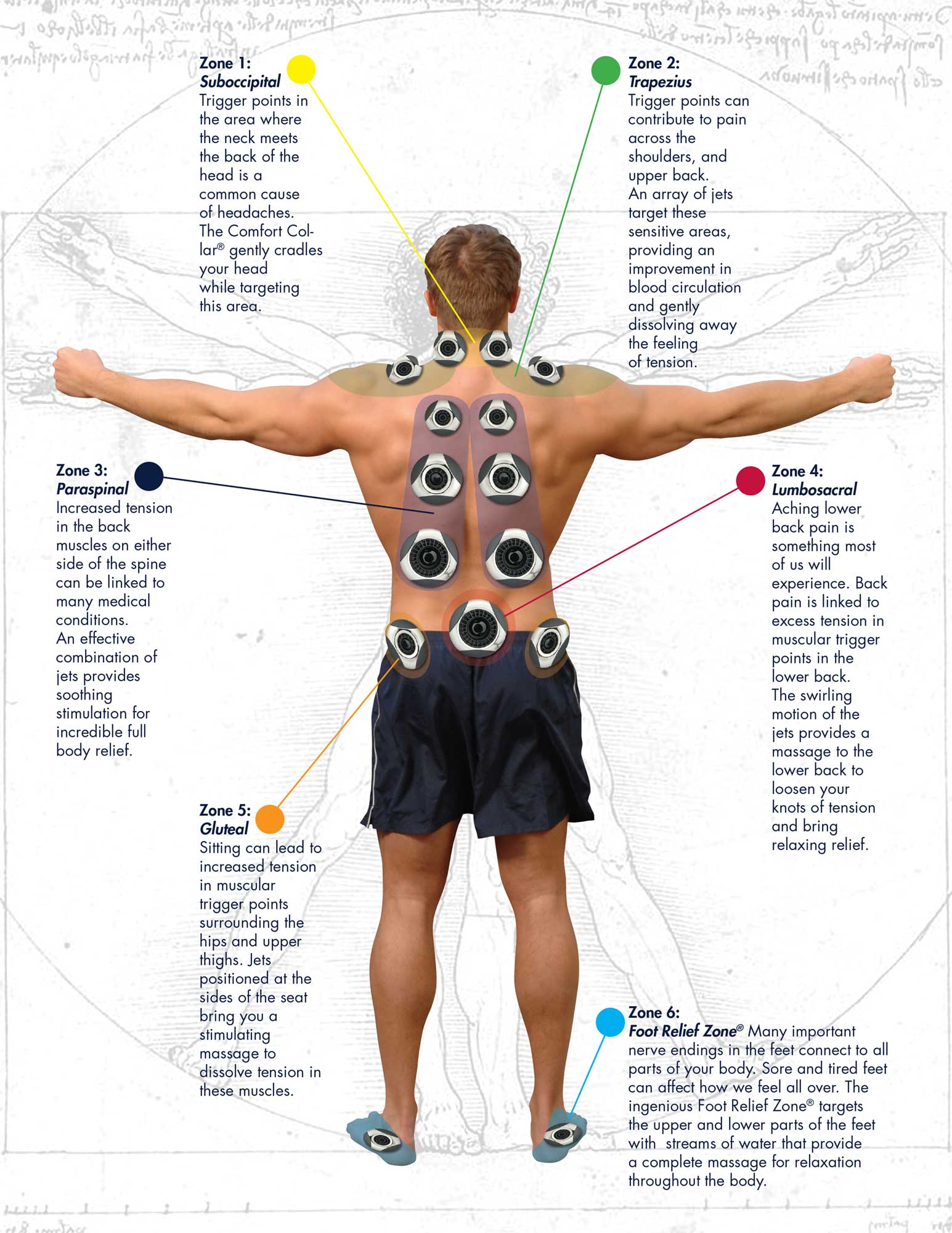 Whether it's diminishing the stresses of everyday life, healing a sports injury, massaging sore muscles, relieving stiff and aching joints from arthritis, or simply helping you achieve a good night's sleep – your AMERICAN WHIRLPOOL® hot tub can help with Physician designed Zone Therapy®. Zone Therapy® utilizes strategically positioned jets to target specific pain zones that contain muscular trigger points. More jets don't necessarily mean a more effective massage. Precisely locating the correct size jet and massaging action where they are most effective is key to relieving pain and stiffness throughout the entire body. The Zone Therapy® concept has been designed by medical specialists in the fields of physical rehabilitation and massage therapy.
Comfort Collar®
A neck massage therapy system is one of the most relaxing features in a hot tub. The reverse molded Comfort Collar's unique cushion supports your neck, gently cradling your head while adjustable cyclone jets massage neck and shoulder muscles. The Comfort Collar® also allows a relaxing massage above the water line, it's like having your neck massaged by a loved one. This hallmark feature is one of the reasons many have already chosen an AMERICAN WHIRLPOOL® hot tub.
Performance Seating™
Performance Seating™ means AMERICAN WHIRLPOOL® has the most comfortable hot tubs in the industry. Each seat is designed to provide full body immersion and proper posture, in harmony with their respective jetting pattern, for comfort and superior jet performance. Built-in Comfort Collars® cradle your head while side bolsters hold your body in an ergonomic position. The shape and dimensions of each seat are designed to the curvature of the spine which provides correct posture, reducing stress on your lower back.
Ultimate Comfort
At AMERICAN WHIRLPOOL® we know comfort. For over 40 years we have designed the world's most comfortable hot tubs thanks to patented features like the zero gravity Performance Seat™ and Zone Therapy®. Seats are specifically molded to fit a variety of shapes and sizes so you can find the one that's right for you. Based on years of research and design across industries that create products to fit the human form, your hot tub has been engineered to scientifically balance ergonomic support, water pressure, jet position, and body buoyancy. Deep immersion seating provides ultimate comfort, while armrests and Foot Relief Zones® seem to mold to your body.
DOWNLOAD OUR
Buyer's Guide
Learn how to find the best hot tub to fit your budget and needs with
our free hot tub buyer's guide. Get it today!